Part Time DevOps Engineer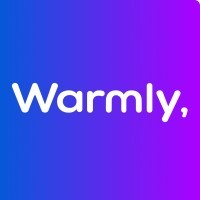 Warmly,
Software Engineering
Remote
Posted on Tuesday, April 4, 2023
Who we are
Warmly
is reimagining the way we create and nurture genuine relationships virtually. Warmly's virtual background business card allows you to share who you are, see social insights on everyone you meet, prepare for meetings, and become connected in our post-pandemic distributed workforce world. We're aiming for the moon as we completely rethink human connection in our new normal on the world's largest video platforms. We're backed by Zoom, NFX, F-Prime, Y-Combinator, and other leading venture capital firms. We were chosen as a '
Top 50 seed-stage company to work for
', after being one of the first apps to launch on
Zoom's new App Store
. As a pioneer in this brand new apps platform, we've achieved only 1% of what we set out to do.
We have two products we're currently working on across the sales & marketing stack:
1.
Nametags
: Cultivate an engaging virtual experience to build better rapport on calls
2.
Realtime Insights
: Equip your sales team with real-time contact-level insights at target accounts
About the Role
As Warmly's Part Time DevOps Engineer, you will:
- Review Warmly's architecture and DevOps design choices, making and implementing top suggestions in order to improve our DevOps by 30%.
- Help us prepare for scaling in a cost effective way.
- Offer support to our team so they don't need to focus on DevOps.
- Offer consulting sessions and guidance to our engineering teamSmaller projects when the specifics are quite technical
Tech Stack/Qualifications
- GCPDocker/Kubernetes
- PostgreSQL
- Serverless architecture
- Monitoring/Alerting
- CI/CD
- Familiarity with javascript/typescript to understand our code
- Optional - Terraform
Project Scope
Short-term: 40-60 hrs one time; Long-term: 10 hrs/month